Prosthetic Dentistry
Beautiful teeth and a natural smile are one of the most important factors when forming a good impression about someone. With the help of modern dentistry, technology and materials we can help you achieve the smile you always wanted. Prosthetic dentistry is a category of dentistry focused on the replacement or restoration of teeth. The primary types of dental prosthetic devices include full and partial dentures; crowns; bridges; implant supported overdentures and implant supported partial bridge or full arch bridge(also known as hybrid). Let us help you improve the function and the aesthetic appearance of your teeth, as well as your quality of life, having your health and beauty in mind.
Porcelain Dental Crowns
Although dental crowns can be made of a variety of materials, including stainless steel, gold and silver, nothing looks better than a porcelain dental crown. Porcelain dental crowns match the natural color of your teeth and are virtually undetectable by the naked eye. And because they're metal-free, porcelain dental crowns are an excellent option for patients with metal allergies. Best of all, porcelain crowns don't just look beautiful – they're long-lasting, too!
Dental Bridges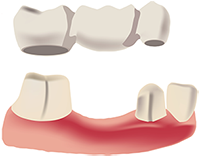 Dental bridges have been used for centuries to replace missing teeth. Today, dental bridges are still considered one of the most durable, conservative and cost-effective options for bridging the gap between a missing tooth and surrounding teeth. Comprised of two anchoring teeth and a replacement tooth, dental bridges help prevent surrounding teeth from drifting out of position, improve chewing and speaking, and help keep your natural face shape in tact.
There are three types of dental bridges: 1) traditional dental bridges, 2) cantilever dental bridges, and 3) Maryland bridges. Traditional bridges have either dental crowns or dental implants on either side of the missing tooth, plus a replacement tooth, which is held in place by a post-like structure called a dental abutment. Cantilever dental bridges are used in cases where there are surrounding teeth only on one side of the missing tooth. Maryland bridges are made of a specialized resin that is cemented to a metal framework and cemented to the enamel of surrounding teeth.
Dental bridges typically take 2-3 weeks to complete and are less invasive than other options, such as dental implants. With good oral hygiene and regular dental visits, dental bridges can last up to 30 years.
Dentures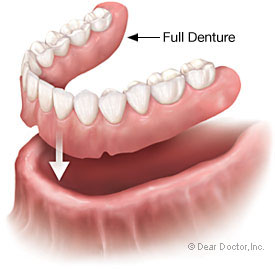 Using dentures to replace missing teeth is not only great for your oral health; it's a great way to look and feel younger! Today, there are a variety of natural-looking and comfortable dentures for patients who need to replace missing teeth. Made of a gum-colored plastic resin or acrylic base and either resin or porcelain replacement teeth, dentures are custom designed to fit your mouth. If you have several teeth or all teeth missing on the upper or lower jaw, full dentures may be your best option. Partial dentures, which can be either fixed or removable, are great for patients who have several missing teeth scattered along the upper or lower jaw.
The process of getting dentures may take a few months and several dental visits. In some cases, however, same-day dentures are also possible. With same-day dentures, the dentures are created right in the dentist's office instead of at an offsite laboratory. Same-day dentures aren't for everyone, though. If your dentures require a lot of customization, same-day dentures may not be right for you.
Just as with your natural teeth, dentures require daily maintenance. With regular wear and tear, your dentures can last 5-7 years. During that time, you may need periodic denture relines to accommodate changes in the contours of your mouth. Regular denture relines involve resurfacing the base to ensure that your dentures fit and function perfectly. If you break your dentures, it's critical to bring them to your dentist for professional denture repair. Home denture repair kits can cause more damage and be even more costly to fix.
In-Office CT Scan (3D Cone Beam)
More and more orthodontists, oral surgeons and other dental specialists are using a new dental imaging technology called 3D cone beam scans – and for good reason. 3D cone beam scans produce high-quality 3D images of teeth, teeth roots, jaws and even the skull. These 3D images allow dental professionals to identify potential problems that oftentimes go unnoticed with traditional dental images. 3D cone beam scans have benefits for patients, too: they emit far less radiation than traditional dental X-rays!
Dental Implants
If you have a missing tooth, you might not feel like smiling. However you don't have to live with an embarrassing gap between your teeth if you don't want to. Plenty of options exist to replace a missing tooth. That's good to know because a missing tooth doesn't just leave a hole in your smile -- it may also affect how you speak and chew. And if a missing tooth isn't replaced, the teeth around it begin to move. Shifting teeth create new crevices for dental plaque to hide in, which can lead to tooth decay and the need for a tooth filling or gum disease treatment down the road.
Implant dentistry is the best option for replacing a missing tooth. Rather than resting on the gum line like removable dentures or using adjacent teeth as anchors like a dental bridge, dental implants are surgically placed into the jawbone where they act as an anchor for replacement teeth. A dental implant looks and feels like a natural tooth, allowing you to chew and speak just like you did before.